The Best Android Phones of 2023
This year has so far been another great one for new phone releases. The usual players are releasing their top-of-the-line tech, but even some more budget ranges of phone manufacturers have released some great devices. We imagine you're here because you're curious about the latest 2023 phone releases or possibly because you're asking yourself, "Should I sell my mobile and upgrade to the newest model?"
Well, you've come to the right place. Today, we'll take you on a tour through the exciting world of new smartphones gracing the market this year. From cutting-edge specs to impressive features and their recommended retail prices, we aim to help you make that all-important decision. Whether you're an eager tech early adopter or seeking an upgrade, let's take a look at the delights 2023 has to offer!
Google graces the market
With its stand-out flagship phone, the Pixel Fold, Google has continued to make waves in the smartphone market. However, following its release of the Pixel 7 this year, we also discovered its more budget-friendly option, the Pixel 7a.
Google Pixel Fold
The Google Pixel Fold marks Google's entrance into the foldable phone market, boasting an impressive 7.6-inch display and sleek mirror-polished multi-alloy steel construction. Running on Android 13, the device is available in 256GB and 512GB storage variants, powered by the in-house Tensor G2 chipset with 12GB RAM. Equipped with cutting-edge cameras, the Pixel Fold continues Google's legacy of delivering top-notch photography capabilities. Impressively thin at 139.7 x 158.7 x 5.8mm when unfolded, this foldable phone certainly stands out. The recommended retail price for the Google Pixel Fold in the UK is £1,349.
Google Pixel 7a
The Google Pixel 7a is a mid-range smartphone sporting a 6.1-inch Full HD+ OLED display with a 90Hz refresh rate and a 20:9 aspect ratio. Powered by Android 13, it offers 128GB of storage but doesn't provide expandable storage options. The device is equipped with a 13 MP ultrawide rear camera and also houses the enhanced Tensor G2 chipset for improved performance and supports wireless charging. With a starting price of £379, it offers a competitive package for those seeking a balance between performance and affordability.
Samsung's star phones
Taking the world of smartphones by storm, Samsung has unveiled a set of groundbreaking new devices that stand as a testament to the company's dedication towards creating innovative, user-centric products. As always, we've seen the annual release of the Galaxy S series, but we've also seen developments within its foldable phone collection.
Samsung Z Fold 5
The Samsung Galaxy Z Fold 5, launched in August 2023, raises the bar for foldable smartphones. It offers a large, foldable screen and a newly designed Flex Hinge for diverse usage options. This device boasts a flatter profile than its predecessors and maintains significant power and versatility. When folded, it measures an impressive 13.4mm in thickness. The Fold 5 operates on Android 13 with Samsung's One UI 5.1.1. Storage options include 256GB, 512GB, and a whopping 1TB, albeit with no expandable storage. In the UK, the Samsung Galaxy Z Fold 5 prices start from £1,349.

Samsung Flip 5
Samsung's Galaxy Z Fold 5, the latest in their line of foldable phones, boasts improved portability courtesy of a flatter and lighter design while maintaining high-calibre features and power. There are, however, areas where it mirrors its predecessor, such as the camera capabilities and narrow cover screen. Despite this, the Z Fold 5 offers outstanding performance backed by Samsung's top-grade mobile chipset. The device is priced at a premium (£1,749), and while it supports Samsung's S Pen, this isn't included. Despite minor screen size and camera performance concerns, the Z Fold 5 still impresses with its innovative, compact design.
Samsung out-of-this-world Galaxy S series
The Samsung Galaxy S23 range, launched on 17th February 2023, which includes the S23, S23 Plus, and the S23 Ultra, are the flagship devices you'd expect from the tech giant. These Android handsets took the market by storm with notable upgrades, especially in battery life: 3,900 mAh for the S23 and as much as 5,000 mAh for the S23 Ultra, promising usage longevity. Fast charging also emerges as a strong suit in the Plus and Ultra models, reaching 50% charge in approximately 20 minutes.
The S23 Ultra commands respect with a 200MP wide-angle lens and 100X Space Zoom, making it an enviable choice for landscape photography and filming 4K videos at 60 fps. The entire S23 series maintains screen sizes from the previous generation but adds a Super AMOLED display to the standard S23 for superior image quality.
All models feature the Qualcomm Snapdragon 8 Gen 2 chipset and a new Adreno 740 GPU, providing stellar performance across all tasks. Not to mention, the S23 Ultra reintegrates the S Pen, reminiscent of the Galaxy Note series, and the whole S23 series has taken a leap towards sustainability by solely using recycled materials.
Xiaomi leading the charge
Xiaomi, the Chinese tech giant, has significantly transformed the smartphone market by producing high-quality and affordable devices. Initially renowned for budget smartphones, Xiaomi quickly gained traction globally. This year, they took on the likes of Samsung with an incredible introduction.
Xiaomi 13 Pro
The Xiaomi 13 Pro is a stellar smartphone featuring top-notch specifications. Powered by a Qualcomm Snapdragon 8 Gen 2 processor, it has 8GB and 12GB RAM, with storage variants 512GB. The device showcases a 6.73″ E6 AMOLED display with a high resolution of 1440×3200 pixels, offering a crisp visual experience. Driven by a robust 4820mAh Li-Polymer battery, it ensures extended device usage. The Xiaomi 13 Pro is equipped with an impressive 32MP in-display selfie camera, supporting video recording with Dolby Vision at 1080p and 30fps. The smartphone's rich camera features ensure high-quality photography options and a high-performance user experience.
POCO X5 Pro
The Poco X5 Pro, a capable mid-range smartphone from Xiaomi's POCO sub-brand, was launched in February 2023. Boasting a robust 2.4GHz Octa-core processor, it runs on Android 12 with MIUI 14 for POCO, facilitating the smooth operation of complex applications and games. It's offered in 128GB and 256GB storage, with dual-SIM capability for user convenience. With cutting-edge Bluetooth 5.2 and Wi-Fi connectivity, this smartphone also sports a vibrant 6.67″ OLED display with a 120Hz refresh rate. Equipped with an IP53 rating, it offers dust and splash resistance and includes a high-quality 108MP main camera for photography enthusiasts.
Honor-ing affordability and high tech
Honor is a global smartphone brand originally aimed to meet the demands of the young generation. Known for its sophisticated but cost-effective devices, Honor leverages advanced technology to break the barrier between high-end performance and affordability, making digital lifestyles accessible for everyone, and this year, they did just that with their latest release.
Honor 90
The Honor 90, a competitive mid-range smartphone, is powered by a Snapdragon 7 Gen 1 processor and boasts a 6.7-inch AMOLED display. Its 200MP primary camera sensor stands out for daylight photography, while a hefty 5000mAh battery, supported by 66W fast charging, ensures long usage. Despite these features, the Honor 90 lacks wireless charging, an IP rating, and stereo speakers, and carries some pre-installed apps that users might find excessive. With its price tag of £449.99, the device offers a decent blend of functionality. But the value for the user will largely hinge on their specific needs and location.
Other great releases this year
Nokia G42 5G
The Nokia G42 5G is a mid-range device offering decent functionality. Its pleasing aesthetic encases a Snapdragon 480 Plus 5G chipset, 6GB RAM and 128GB of expandable storage. Despite its relatively modest HD resolution and 90Hz refresh rate not matching pricier competitors, it maintains a reasonable performance overall. The camera setup, featuring a 50MP primary sensor, delivers satisfactory shots in good lighting, while the battery life impresses, stretching over a full day. With a few setbacks, such as slow charging and lack of advanced display features, the Nokia G42's acceptance among users may largely depend on their specific needs.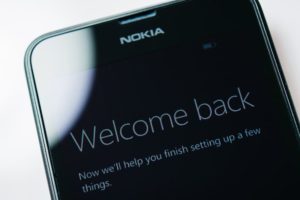 Nord 3
The OnePlus Nord 3 5G, a comprehensive mid-range offering, boasts a striking 6.74-inch 10-bit AMOLED display with a 120Hz refresh rate, providing a vibrant and responsive viewing experience. Powered by the MediaTek Dimensity 9000 chipset and up to 16GB RAM, the device performs admirably in various benchmarks. Its triple camera setup includes a 50MP primary sensor, capturing detailed images in well-lit situations. A 5000mAh battery provides long-lasting usage, further complemented by 80W SuperVOOC fast charging. Despite minor design shortcomings like odd flash placement and a tall profile, the Nord 3 5G competes strongly within the mid-range smartphone market.
Xperia 5 V
The Sony Xperia 5 V offers a solid build, outstanding battery life, and excellent performance, with its main camera proving particularly impressive. The handset incorporates IP65/68 water resistance but disappoints with large bezels, resembling a mid-range device. Its 128GB storage and slow charging could be limiting factors for power users, while the lack of a telephoto lens and modest OLED screen are worthy of note. Priced at £849/€999, the phone features a metal frame, Gorilla Glass Victus 2, a headphone jack, and a physical camera button, making it a comfortable, albeit bulky option within the Xperia range.
Get an upgrade with the help of Mazuma
A high-performance smartphone, such as those from the iPhone 15 series, Xiaomi, Honor, or OnePlus, can cater to various needs, be it capturing stunning landscapes, fashionable selfies, or engaging videos. If your current phone isn't delivering the desired performance, why not sell your iPhone, trade in your Samsung Galaxy S, or even send us your Google phone to upgrade?
When you're ready to upgrade, don't let your old devices sit idle and lose value. Sell your mobile phone to us and discover how competitive our prices truly are. For instance, at Mazuma Mobile, trading in your iPhone 13 Pro Max could land you some substantial cash. So, why wait? Request a quote from us today to find out how much your old phone is worth. We even accept broken phones, allowing you to make money from an unfortunate accident.