How Do I Know My Data Is Protected When Selling My Phone to Mazuma?
As we navigate our digital lives, it's natural to have some concerns about how our personal information is handled. One issue that many people worry about is what happens to their old devices when they sell them. We all leave digital footprints behind, and understandably, you may be concerned about what the new owner might find. After all, our devices contain everything from cherished memories to sensitive financial details.
At Mazuma, your satisfaction and security are our top priority. Our dedicated team works tirelessly to ensure all customer data is completely removed from our system before any device is released. So, if you're worried about the data on your device when using our sell my mobile services, find out what we can offer to put your mind at rest.
The potential risks inherent to unwiped devices
Living in the digital era has a lot of advantages, but it also comes with some risks that can be detrimental if we don't value data privacy enough. An uncleaned device can become a ticking time bomb, full of dangers such as:
Identity theft
Unauthorised access to personal accounts
Misuse of personal information
Financial vulnerability
However, it's not just the individual user who needs to be cautious. Businesses and those buying used phones must carry the ethical responsibility of safeguarding privacy and choosing a responsible phone recycling facility which ensures any data has been removed to the highest industry standards. At Mazuma, we also provide secure data erasure for businesses, allowing companies to dispose of their unwanted devices safely, efficiently and responsibly.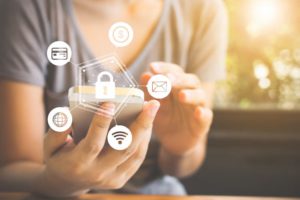 Even if you factory reset the phone, certain technology can still access the digital footprint you leave when using it. So, having expert equipment to wipe your personal information from the phone is essential.
The testing process of Mazuma
Luckily, at Mazuma, we take your privacy very seriously. Our comprehensive end-to-end testing process ensures no data remnants are left behind. As devices arrive, our team examines them thoroughly, identifying any issues and making sure that any data has been deleted from the device using our data delete tool. If the phone is inaccessible for whatever reason, we will hook it up to our equipment, which allows us to test and wipe the phone through our technology.
Our testing process relies on Phonecheck, our key partner in diagnostics and data privacy. Compatible with a wide range of digital devices, Phonecheck delivers in-depth reports on numerous aspects of each device. The core elements of the process include Lock Detection and functionality tests (Wi-Fi, Bluetooth, GPS, battery capacity, sensor checks, and more), ensuring a seamless experience for future owners.
Crucial to our testing procedure is the final erase and reset step. By wiping the device and returning it to factory settings, we safeguard customer identities, reaffirming our commitment to superior customer service and trust.
How to wipe a device before sending it to Mazuma
Before sending in your old device to Mazuma, data deletion is a significant step. It helps to alleviate concerns about privacy and ensures you're protected.
For added convenience, we offer Mazuma's free Mobile Data Delete Tool, a straightforward and user-friendly guide to assist you in wiping your device correctly. Here's a snapshot of the process:
Back Up Your Data – Before initiating the deletion process, always ensure your important data is backed up. You can do this using various cloud services available for iOS and Android, or by connecting your device to a computer.
Factory Reset Your Device – Each device has a 'Factory Reset' option, usually found within the settings app. This action will delete all the data on your device and set it back to its original state as when you first bought it.
Remove SIM and Memory Cards – If your device has a SIM or memory card, don't forget to remove them before sending it to us.
While you might perceive data deletion as a daunting process, Mazuma aims to make it a breeze. We prioritise customer convenience and user-friendliness in all we do, leaving no room for complexity or confusion. When you choose Mazuma, you're choosing simplicity, security, and superiority.
What if my phone is broken, and I can't wipe the data?
Our testing process is specifically designed to wipe any data on your device, regardless of its condition. This means that even if your device is unusable, damaged, or unable to be turned on, any information it holds is safely erased. We strictly adhere to all data protection laws and uphold the highest levels of data privacy. Rest assured, none of your personal information, including your text messages, will ever reach the internet.
From the moment your device arrives on our premises to the moment it's dispatched, your data is safeguarded against unauthorised access or breach. We employ advanced technology, stringent procedures, and skilled personnel to ensure these high standards are met consistently.
In addition to our industry-leading processes, you can also take steps to minimise personal data on your device before sending it in. By simply logging out of your online accounts, you can remove a large percentage of data that could potentially be accessed.
For Android users, your Google account connects to services like the Google Play Store, Google Drive, and Gmail. By logging out of your Google account on a desktop, you reduce the amount of data accessible on your device.
For iPhone users, you can manage your data privacy by navigating to your Apple account. Here, you'll find an option to view and manage devices with access to your account. Remove your old iPhone from this list before sending it in to further ensure data privacy.
Sell your phone to Mazuma
It's essential to recognise the significance of data privacy. Ensuring your device is wiped clean before you part with it is not just a matter of safety but a requisite in preserving your digital identity.
We are deeply committed to protecting our customers' data privacy. Our rigorous end-to-end testing processes, together with our easy-to-use Mobile Data Delete Tool, exemplify this devotion to the industry's best practices. Every step we undertake is aimed at enhancing the user experience without ever compromising on data protection.
Whether you are looking to sell your Xbox One or wish to trade-in your iPhone, be confident that Mazuma is keeping your data privacy intact.