iPhone 13 vs Samsung S21 – Which is Better?
With the Samsung S22 now out and Apple's next series likely to be introduced in September, now is the perfect time for anyone looking to upgrade their mobile to get a great deal on the two tech giant's previous or current flagship models. As new models are launched, the prices of existing models tend to drop, meaning you can pick up a handset packed with tech and power for significantly less than this time last year.
If you're due an upgrade, you might have your eye on either the iPhone 13 or Samsung S21 – so how do the devices shape up when compared with one another? We'll be looking at the entry-level models in both series for this comparison. Once you've decided, don't forget to visit Mazuma Mobile's Sell My Phone page, or more specifically the sell my Samsung or sell my iPhone pages, and find out how much you could get for your current or any old devices – you could even put the money we pay you towards your new iPhone 13 or Galaxy S21!
iOS or Android?
Of course, the first thing to ask yourself when comparing the iPhone 13 and Samsung S21 is whether you have a preference for the operating system. Some people love Apple's iOS because they find it easy to use and like the interface. Others prefer Android devices because it's open-source software that offers more flexibility.
There's no right or wrong answer. Both iOS and Android have advantages and disadvantages, and in the end, it comes down to user preference. If you have a favourite, though, and you know you want to stick to what you know, the decision between an iPhone 13 and an S21 could be a relatively easy one. In that case, maybe you're ready to head over to sell my iPhone or sell my Samsung and find out how much you could get for your old device.
Display
Anyone with a predecessor to the iPhone 13 will be familiar with the 6.1-inch Super Retina XDR OLED display, as it hasn't changed much over the last few years. Improvements to the display have been reserved for the Pro and Pro Max models of the iPhone 13 series.
With Samsung, the top specs have also been reserved for the S21 Ultra, but the entry-level S21 still offers a crystal clear 6.2-inch Dynamic AMOLED 2X display and an improved 120Hz refresh rate, which isn't offered on the iPhone 13. If you're not a fan of the notch at the top of the screen, the S21 is arguably sleeker than the iPhone 13, with only a single black punch out for the front-facing camera.
Cameras
The iPhone 13 comes equipped with dual 12MP wide and ultra-wide angle lenses. The camera can reach 5x digital zoom and is complemented by a 12MP TrueDepth front-facing camera for selfies. If you use your phone for videos, the iPhone 13 can record 4K video at 60fps, backed up by Dolby Vision and Apple's own Cinematic Mode for shooting professional-looking videos right from your phone.
The Samsung S21 has a triple camera, giving it an extra lens over the iPhone 13. Much like its competitor, the S21 has dual 12MP wide and ultra-wide lenses, with the addition of a third 64MP telephoto lens for 3 x hybrid optic zoom. For video, the S21 is capable of capturing 8K video at 24fps, 4K at 60fps and also boasts a 10MP front-facing camera for selfies.
For everyday use, both models take fantastic photos. There is very little difference in sharpness and exposure between the two devices. The area in which the S21 stands out against the iPhone 13 is camera zoom, thanks to the additional 64MP telephoto camera that the iPhone doesn't have.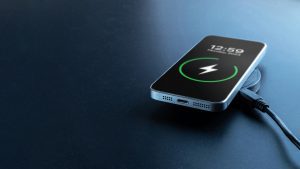 Battery Life
The iPhone 13 can comfortably last throughout the day thanks to the introduction of MagSafe Wireless charging and its 23W fast charging capabilities (50% in 30 minutes). This, combined with Apple's software optimisation, means that even though the iPhone 13 has a smaller battery capacity on paper (3240mAh compared to the S21's 4000mAh), it will likely outlast the S21.
The Samsung S21 will generally last a day on a full charge; however, with heavy usage or power-hungry settings like GPS, the battery may struggle to make it to bedtime. Even though it has a larger battery than the iPhone, Samsung's software optimisation isn't nearly as good, meaning the battery has to work harder.
Design
In terms of the physical look and feel of each device, the iPhone 13 looks nearly identical to its predecessor, the iPhone 12, offering the same flat-edged sides. The device measures 146 x 71.5 x 7.65mm and weighs 173g. The casing is glass and aluminium and comes in five colours.
The S21 comes in slightly longer and thicker at 151.7 x 71.2 x 7.9mm but is lighter at 169g. The casing is plastic and available in four colours.
Both devices have a water-resistant rating of IP68 and are submersible in up to 1.5m of water for up to 30 minutes.
Conclusion
It's never easy to pick a winner when it comes to Apple vs Samsung, and a lot of the time, it boils down to personal preference. That said, if you've been considering making the switch from one camp to the other, this series of iPhone and Samsung devices is a great place to start, as both flagship models are high-performing, durable and boast impressive specs.
Either phone would be a worthy investment and when the time comes to move on to an even newer model, you can head over to Sell My Samsung S21 or iPhone 13 Trade In and find out how much money you could get for your device by selling it to Mazuma Mobile.