How to Cut the Costs of a New Phone
From the rise of inflation to the upcoming festive period, looking after the pennies is essential right now. However, if your contract has come to an end, you may be considering what's the best option to prevent spending lots of money on a new phone. So, we explore ways you can save when you reach the end of your contract.
Grab a bargain with re-conditioned phones
What's the next best thing after a new phone? One that appears and works like a brand-new phone without the new phone price. There are several ways to pick up a cheap second-hand device, but the biggest issue many have with finding a used phone is not knowing the condition it will be in when they receive it.
Privately purchasing a second-hand phone comes with many risks, including not knowing whether it's in good nick, whether there is anything wrong with it, or if there's a chance of having someone else's digital footprint. If this worries you, why not pick up a refurbished device? At Mazuma, we have an extensive range of cheap smartphones for sale at a much lower price than buying a brand-new handset. Every mobile we receive has undergone an extensive testing process which assesses the phone's condition, allowing our expert engineers to restore the phone to almost brand-new status. With a refurbished phone from Mazuma, you can rely on excellence when you receive your new device.
Trade in your old devices
When it comes to buying a new phone, it can cost a fair penny, but how many old phones do you have lying around? We've all been guilty over time of collecting old devices in a phone graveyard in our drawer or cupboard. We always convince ourselves that we will wipe the device and sell it, but how long have yours been sitting there?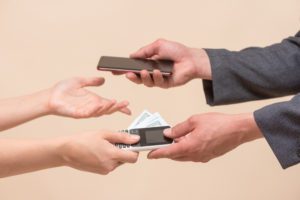 As time goes on, the price of phones gets lower with the release of a new device each year. Don't hang on to old phones. Get them sold and treat yourself to a new upgrade without the big price tag.
Consider a trade-in of your old mobile, get rid of your old devices, and earn a bit of cash. It's the best way to clear up some space and get help putting the money together for your new phone. Our process is simple, easy and fast, and you can often receive the funds in your bank within the same day we receive your phone. We can offer the most competitive prices online, so why not take advantage with an iPhone trade-in?
Avoid expensive contracts
Although getting a new phone on contract may seem easier, it's not always the cheapest option. From upfront costs, interest and the data plan, you could be paying more for your device than buying one outright. For example, take the (PRODUCT)RED iPhone 12 with 256GB storage. Buying one brand new direct from Apple could cost you £809, or purchasing it on contract with a recommended plan from EE can cost over £1500. Alternatively, for the exact iPhone 12 from us, you'll pay a lot less, with ours costing just £609.99! That's nearly a £200 saving and no ongoing payments.
Paying for your phone outright will minimise the worry of monthly expenses if you find money tight one month. In addition, there is the risk of mid-contract price increases, changes in circumstances and much more that may prevent you from being able to pay your monthly contract in the future. This, of course, leads us to our final option, sim-only deals.
Don't fix what's not broken
Suppose you have reached the end of your contract, your phone is in perfect working condition and looks as new as the day you bought it – why change? Of course, if you are looking for a newer model or something different, you can always trade in your mobile to get an excellent price for its condition. However, if you are still happy with your phone and there is no need for a new one, you don't have to upgrade.
With the cost of living crisis, we have seen more people stick with their phones or purchase refurbished devices after trading in their old ones. Having the latest phone no longer seems to be the trend and has been seen in Apple's latest release, the iPhone 14. Sales of the new device were down 11% compared to its predecessor. Many factors could be contributing to this, but with everyone looking to tighten their belts, perhaps a sim-only deal is the way to go.
With sim only, you don't need to worry about high monthly costs as most of them can be rolling contracts, allowing you to cancel whenever you choose. Or if you do choose a 12/24 month contract, you only pay for what you need. Most of them come with unlimited minutes and calls, so the only factor to consider is the data. You can find out your current data usage through your network provider, giving you an idea of what to look for.
Buy and sell with Mazuma
So, whether you are looking to purchase a smartphone at a lower price than a brand-new retailer, or you wish to use our sell my mobile services to earn a bit of extra cash to pay for a new one, we can help!
Even if you're considering selling a broken phone, why not check to see how much you would get? We want to give every phone a new lease of life, so no matter what condition your phone is in, get a quote online today.
We offer excellent trade-in prices, quick payments and fantastic refurbished devices.