The Best Screen Protector for Your Phone
Ever wondered about the best way to keep your smartphone safe and squeaky clean? Look no further than a humble yet mighty hero, the screen protector. These compact marvels are more than just a piece of plastic or glass adhered to your phone screen. They're the frontline defence that combats the daily wear and tear, accidental drops, and those heart-stopping moments when your precious device takes a nosedive.
In a world where our gadgets are an extension of ourselves, as experts in phone recycling, we explore how crucial a screen protector is in maintaining your phone's longevity and pristine appearance.
Do I need a screen protector?
Screen protectors are becoming the automatic go-to purchase when most people pick up their new phones. This natural habit comes from the memories of screen cracks nationwide from the early models of smartphones, which used a basic glass screen. These early smartphone screens were thin enough to be responsive but not so tough to prevent breaking when dropped or scratched.
Nowadays, many smartphones come with tough, scratch-resistant screens. For example, the iPhone 14 boasts nano-ceramic crystals —harder than most metals — fused into the glass for far greater durability. This is why broken screens are less common when people come to us to use our "sell my iPhone" services. However, no matter what phone you have, you'll know they're not indestructible, and a screen protector provides that additional comfort that your phone is as good as new.
The other benefits of screen protectors
Although we covered why you should buy a screen protector to protect your device, you may be thinking, why does the screen matter? Well, here are just some reasons why you should consider the importance of your screen.
1. Keeps your phone functioning
Screen protectors are the superheroes of the smartphone world. Cracked screens not only ruin the look of your phone, but they can cause devastating effects on the functionality. The touchscreen can be a very delicate bit of kit. Any critical damage can make your phone unusable. However, a good screen protector keeps your screen in one piece and working perfectly, no matter what accidents it undergoes.
2. Maintain your device's good looks
Accidents can happen anywhere, even if you're the most careful person with your smartphone. With a screen protector, your phone looks brand new long after you've taken it out of the box. It shields against scratches and dents, keeping your device's charm intact.
3. High resale value
Planning an upgrade? A well-kept screen could significantly boost your phone's resale value. Whether you're looking to sell an iPhone 13 Pro or trade in a Samsung Galaxy S10, having a screen with no signs of damage can really add value when you are ready to sell up. So, if you're debating overpaying for a screen protector, consider it an investment toward your next device.
4. Preserve the life of your device
Preserving your smartphone's screen is much more than about keeping it just visually pleasing. Protection allows your smartphone to function optimally without facing issues like dead pixels, screen burn-in, or weak touch responsiveness. A well-maintained screen doesn't just add years to your phone's life but also ensures you can enjoy its features longer, delaying the need for an upgrade or replacement.
Types of screen protectors
So, when it comes to safeguarding your smartphone, a screen protector is a must-have for keeping your phone in its best condition. However, getting the best from your screen protector will depend on the type you buy.
Tempered glass
These are the firm favourites for most smartphone users as they offer the best protection and value for money. Made from toughened glass, it provides a smooth and seamless screen appearance and looks almost undetectable when applied to your smartphone. It's almost like another layer of glass.
PET (Polyethylene Terephthalate)
Next in line, we have plastic screen guards made of PET (Polyethylene Terephthalate). They're like the featherweights of the protectors – thin, light, and smooth. They're budget-friendly and great as a temporary solution but don't expect them to carry heavyweight protection like tempered glass. These mainly protect against scratch damage and often are as thin as the protective film you peel off your phone when you first get it. Although some decent ones are on the market, which is better than nothing, they offer minimal protection.
Nano liquid protector
Lastly, we have the new kid on the block, the nano liquid protector. It's the 'modern art' of screen protectors, to say the least. You apply the solution in liquid form, leave it for a significant amount of time, and spread it across your device. The liquid hardens to form a plastic coating over your smartphone or device. Although most of these have been tried and tested, we recommend doing in-depth research and reviewing browsing before choosing this option.
The nano liquid protectors may boast the ultimate protection and look more seamless than an adhesive protector, but they could interfere with the integrity of your device. Some great video reviews demonstrate the strength of these protectors, but so far, the jury is still out.
The overall winner is…
Of course, if your latest upgrade has you a little tight on cash, then any protection is better than nothing when you first get your new phone. Luckily, every new smartphone comes with a protective film to ensure the screen arrives picture-perfect, so if you really can't afford to pick one up, you could always keep that on until you have the spare money to invest.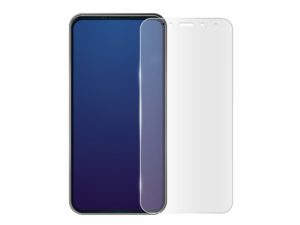 The plastic adhesive ones are okay for keeping away minor damage, but if you're looking for a screen protector that can enhance your phone's durability, it has to be tempered glass. They really offer the best screen protection; even if they crack, you can be sure that your screen underneath remains intact. Although the thickness can put many people off, many modern smartphones allow for screen protectors, and you can adjust the sensitivity of your screen to make allowances for thicker protectors. So, for the ultimate best protection for your screen, always look out for tempered glass, often called gorilla glass or toughened glass. The prices vary, but you can pick them up for as little as £2.99.
Is it too little too late for your phone?
Are you worried that your phone is already past the point of repair? At Mazuma Mobile, we're here to help ease your concerns. We believe every phone deserves a second shot at life, regardless of its condition. It's never too late to trade in your phone, and who knows, you might even be pleasantly surprised by its remaining value!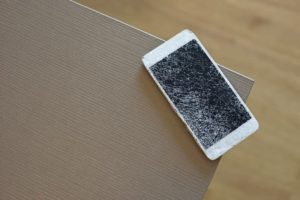 Whether its screen is cracked, the back is damaged, or simply it's seen better days, don't worry. We welcome phones in all states. So take heart, because selling your broken phone might be the perfect transition into your next upgrade! Get a quote today for your old phone, or if you have any questions about how our services work, take a look through our support pages with all the information you need to know.