How does it work?
You can find out by going to our 'How It Works' page.
How do I find out how much my device worth?
Simply type in your model into the Model Quick Search box on the top right hand side of our home page and press Go. Once your model is found, you will be able to get an instant value.
What sort of devices can I sell?
We'll accept both Working and Faulty devices listed in our pricing guide. For the full story, please take a peek at our Terms & Conditions.
How do I find out what model my device is?
Finding your model can sometimes be tricky. On most devices, the model is normally printed on the product label which can be found on the back. You can also try to match what your device looks like against our extensive model image library. Find your exact phone model with our popular Samsung phone trade-in page or our iPhone trade-in page, or alternatively browse our sell my mobile page to view all accepted makes and models.
What is an IMEI number?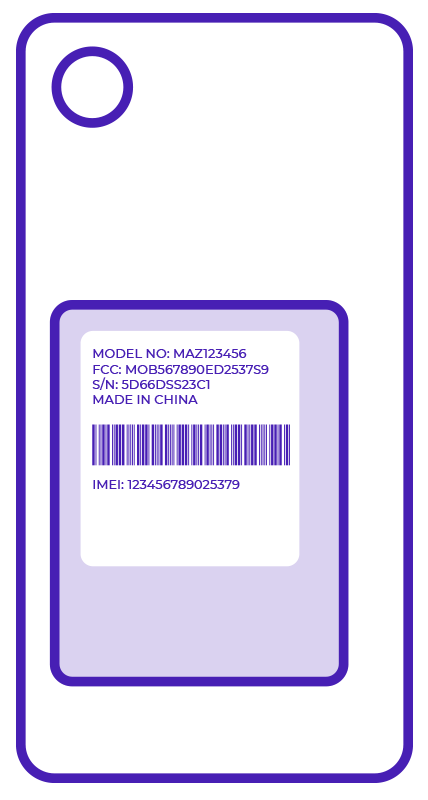 This sounds a bit complicated but it really isn't.
The International Mobile Equipment Identity (IMEI) number is a 15 digit serial number unique to each and every phone. You'll usually find it printed on the back of the handset or on the SIM gate of most Apple iPhones.
Alternatively you can ask your phone to tell you itself: it'll display its IMEI on the screen if you enter: *#06#
A 15 digit number should be displayed.
Example: 359395000322140
If your handset displays more than 15 numbers or is separated by symbols,
please enter first 15 numbers only.
Example: 351965-00-145687-9-03 (Enter: 351965001456879 only)
Why are some mobiles only worth £1?
We list over 5000 devices, some worth £1 and others worth £700. Our pricing team monitor market prices on a daily basis to ensure our prices remain the most competitive. With some new prepay mobiles being sold for as little as £9.99 the prices we can pay you for second-hand ones can sometimes be limited.
My device is not worth anything, can I recycle it?
Unfortunately, we are unable to accept any devices that do not have any reuse value. We recommend that you contact your local council to dispose of any devices of no reuse value.
Is there a limit to the number of devices I can sell?
Good question, and good news. You can send us as many devices as you want, whenever you want. We'd like it if you did.
Do you accept fake/counterfeit phones?
There is a growing number of counterfeit phones in the UK market. These look very similar to genuine products but are illegally produced and may prove to be dangerous to use. We do not accept any non-genuine products.
Do you accept stolen phones?
We don't like thieves and definitely do not accept stolen phones. We check all received phones via CheckMEND, a crime protection database, to ensure that phones are not barred or registered stolen.
Do you buy broken phones?
Yes, we buy both Working and Faulty phones.
What is iOS7/iOS8 Activation Lock?
Activation Lock is a security feature on iOS7 and iOS8 which locks your Apple device to your iCloud account. We require you to remove your iCloud account from your device before sending it to us.
More details, and instructions for unlocking your device can be found on our Activation Lock page.