Introducing the iPhone 15 Series
The moment Apple enthusiasts have been waiting for arrived – the company has unleashed its game-changing iPhone 15. This release marks an important chapter in Apple's saga, offering unprecedented features and improvements that are catching the eye of even die-hard Android users. It's not just an upgrade; it's a transformation. From design tweaks to system upgrades, Apple has curated a package that redefines the smartphone experience.
As leading phone recycling facilities, we love keeping up to date with new releases. Today, we will dissect the iPhone 15 in detail, showcasing the latest updates that set it apart from its predecessors and could make it your next smartphone.
Meet the iPhone 15 family: the four editions
Apple's gone all out with the iPhone 15 series. Sticking to what they do best, they've given us a complete lineup – the basic yet brilliant iPhone 15, the beefed-up iPhone 15 Plus, the intricate and impressive iPhone 15 Pro, and the crème de la crème – the iPhone 15 Pro Max.
The iPhone 15: It's the standard model and pretty much perfect if you want the best value for money. Sleek, efficient, and loaded with all the shiny new stuff from the latest iOS, it's your ticket into the Apple universe if you're just starting out.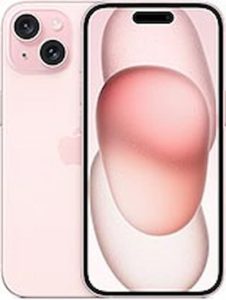 The iPhone 15 Plus: This is the standard's big brother – literally! Larger screen, snazzy dual-lens camera, and a few extra goodies to make your user experience all the more enchanting. If you've got a bit more money to spend and want more than the standard iPhone 15, including the best battery life in an iPhone, this one's for you.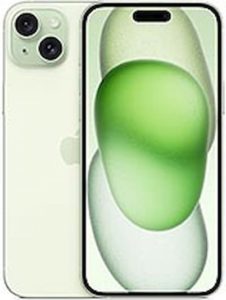 The iPhone 15 Pro: You've got a top-notch camera, a fancier display, and an ultra-smooth finish. This model is something special. Extra durable, advanced features, and a real step up from the standard and Plus models – the Pro's got it.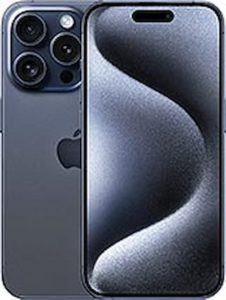 The iPhone 15 Pro Max: This phone lives and breathes 'Go Big or Go Home'. Biggest display, a top-of-the-line camera, and a longer-lasting battery. If you're someone seeking the absolute best in a smartphone, you've just found your match in the Pro Max.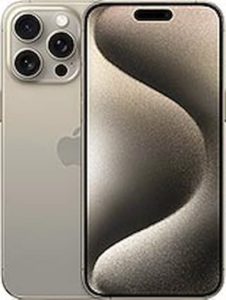 With all the different choices in the iPhone 15 lineup, there's something for everyone. Whether you're after just the basics, a few added bells and whistles, some razor-sharp details, or the whole nine yards, each model's got its own little spark that makes it special.
System updates: power through the possibilities
This new iPhone 15 range has some amazing system enhancements pushing the boundaries of performance and efficiency.
iPhone 15:

A16 Bionic Chip: Faster processing and improved power management.
Battery: 3349 mAh, providing extended usage.

iPhone 15 Plus:

A16 Bionic Chip: Same as the iPhone 15, ensuring top-notch performance.
Battery: 4383 mAh, offering impressive battery life, ideal for the larger screen.

iPhone 15 Pro:

A17 Pro Chip: Enhanced processing power, perfect for multitasking and gaming.
Battery: Modest increase to 3274 mAh, maintaining performance and usage time.

iPhone 15 Pro Max:

A17 Pro Chip: The ultimate processing powerhouse for flagship performance.
Battery: Massive 4422 mAh battery, delivering exceptional efficiency and power.
With the new and improved chip inside these devices, the iPhone 15 series is geared to give you turbo-charged processing speed, smoother gaming experiences, and efficient multitasking. It's also kinder to your battery, so you can count on a longer battery life.
The upgrades also mean more advanced graphics, smarter AI, and machine learning goodies, not to mention tightened-up security. All these improvements mean your user experience will be smoother, stronger, and more powerful than ever.
A visual feast: design and display advancements
The iPhone 15 series pairs innovative updates with the quality standard that iPhone fans have come to love. With striking colours, improved displays and lightweight materials, all models of the series are a testament to Apple's commitment to design and functionality.
iPhone 15 and iPhone 15 Plus: colours on display
The standard iPhone 15 and 15 Plus come in an amazing choice of colours—Black, Blue, Green, Yellow, and Pink. But it's not just about looks—their aluminium frames and Gorilla Glass front and back ensure these beauties can handle average knocks and bumps in bags, pockets, and life. So, you're getting a mix of style and real resilience.
Key updates include –
Display: both models show a slight increase in screen size and better resolution, improving visual experience.
Build: maintaining the lightweight aluminium casing, they ensure hand-held comfort and durability.
iPhone 15 Pro and iPhone 15 Pro Max: premium aesthetics
The Pro models are in a class of their own. Dressed up in high-end hues like Black Titanium, White Titanium, Blue Titanium, and Natural Titanium, they carry a certain sophistication. It's not just about having the flashy features, though. What's impressive is how they pack in all the incredible technology and functions whilst keeping the phone light and easy to hold.
Significant changes are –
Display: The Pro model offers a better resolution, while the Pro Max retains its predecessor's display and size.
Weight: Both Pro models are lighter than their previous counterparts, ensuring ease of use.
With these improvements, the iPhone 15 family has flourished in design, detail, and durability, providing a versatile selection of looks to match your individual style while staying true to its strong functionality.
Apple joins the USB-C crowd
Say goodbye to the cable chaos! The iPhone 15 has finally moved on from the exclusive charging port we'd come to know since the iPhone 5. Apple has embraced the USB-C connector, universally used amongst other smart devices.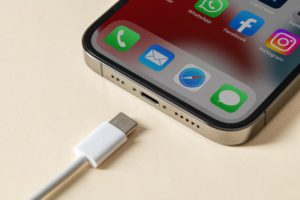 This shift aligns the iPhone with other electronic devices and significantly reduces the wire clutter in homes and offices. No more scrambling for different chargers for multiple devices. The iPhone 15 is marching right up to the front lines of versatility and convenience.
Get Pro images with iPhone 15 Pro and Pro Max
The iPhone 15 Pro and Pro Max elevate mobile photography with their Photonic Engine, delivering extraordinary 24MP photos—double the typical resolution for superior detail. Select from 24mm, 28mm, or 35mm main camera lenses; no extra tools required. It's safe to say, the iPhone 15 Pro and Pro Max redefine possibilities in mobile photography and videography.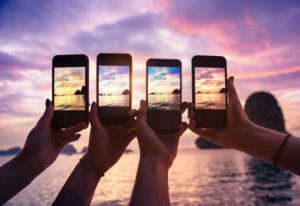 These Pro models are the first smartphones to support ACES (Academy Colour Encoding System), bringing Hollywood-level colour rendering for detailed, vibrant images. This feature really raises the bar for producing great videos to keep your followers up to date in impressive detail. Propelling innovation, they've also introduced 3D video capabilities with Ultra-Wide and Main cameras. Immerse yourself in 3D videos with remarkable depth and realism through Apple Vision Pro.
The camera upgrade you wanted
The iPhone 15 and 15 Plus also boast significant camera upgrades, taking mobile photography to the next level. Although they only feature two lenses, it doesn't stop the power of the image-taking capabilities. With an impressive leap from 12MP to a 48MP main camera, you can enjoy remarkable image quality featuring enhanced detail and vibrant colours, transforming portraits dramatically.
The devices also enable a focus shift between subjects with a simple tap, even after capturing the shot. Now, there's no need to manually switch to Portrait mode as the iPhone 15 automatically captures depth information when the subject is a person, dog, or cat. This progress enables users to view their photos instantly as portraits with an artful blur effect, making it seamless to achieve stunning visual results with the iPhone 15 and 15 Plus. So, if you're looking for a much better camera, sell your iPhone 14 with us and be the envy of all your friends with a new iPhone 15.
The cost of the new iPhone 15 family
The pricing for the new iPhone 15 series has seen an increase compared to last year's release, the iPhone 14 series. The price for the standard iPhone 15 is £799, which is £100 more than the iPhone 14. This price increase is the same across all models, except for the iPhone 15 Pro Max, which has only seen an increase of £60 compared to the iPhone 14 Pro Max.
This price increase is just another bit of evidence that the cost of living affects all industries and may put many people off upgrading. Even if you are considering buying the new iPhone on contract, you can expect an inflation in last year's prices. However, if this hasn't put you off and you want to buy a new iPhone, we can help with our incredible "sell my mobile" services.
Trade in and upgrade with Mazuma: your path to the iPhone 15
Selling your old phone with us is a simple and efficient way to generate funds towards your new iPhone 15. Whatever device you have, if you want to trade in your Samsung Galaxy S to make a move from Android to iPhone, we offer the best prices online. The best part? We also charge no fees, which means you can sell your phone with us for free, unlike other platforms.
Start with an online quote on the Mazuma Mobile website, which instantly tells you how much your device is worth.
After accepting the valuation, you'll receive a sales pack, including a Freepost bag, to send your device securely and free of charge.
Take it to your local drop-off points, and we'll even throw in some free tracking, too, so you know where your phone is throughout the process.
Mazuma handles the rest – inspecting your device and typically making payment on arrival day directly into your bank account.
Trading in with Mazuma is not just a way to offset the cost of your new iPhone 15 but also an effortless, quick, and beneficial process for you and the environment. By recycling your old device, you help reduce the emission of harmful substances present in electronic waste and the demand for raw materials for new devices, consequently lowering greenhouse gas emissions.
Are you rushing for an upgrade?
The iPhone 15 generation clearly brings remarkable upgrades and fresh hues to the table that may make any tech enthusiast's heart flutter. However, the price tag might give pause – it's a hefty investment for a phone. But is that enough to make you rethink your upgrade desires? Possibly.
At Mazuma, we offer a solution to this predicament by helping you unlock the value of your existing tech gadgets. Whether through our "sell my watch" service or the popular Xbox One trade-ins, you can quickly amass a considerable amount to fund your next tech upgrade. With Mazuma, staying abreast with the latest technology doesn't have to break the bank. The iPhone 15 series could be more within reach than you imagined.