Trick or Treat – 5 of the Best Phone Features of Halloween
Are you looking to have a great Halloween this year? From apps to scare you to pranks to scare others, take a look at our app guide to make Halloween spooky and thrilling! We promise there will be something to knock your socks off, and they have all been tried and tested through our helpful staff!
1. Scare your friends – This trick will have you screaming!
Making friends jump is the biggest thrill of Halloween. Whether you're a fan of the oldies, like hiding round corners and jumping out, or something that requires a bit more plotting or planning, we have found one that is a mixture of both.
Although there are many voice-changing apps available to download, most of them require you to speak into the phone to change your voice – which is not very scary at all! But here's what you could do.
If you record yourself, or even download a spooky voice or screaming as an MP3 and save it to your phone, you have the perfect scary noise. Once you have it downloaded to your device, you then need to set the alarm. Plan ahead and figure out the best time to set the alarm. Whether you decide to do it mid-film or at random intervals through the day – "Noise? Scream? No, I didn't hear it" – You can guarantee you will have your friends spooked good!
2. Possessed tech to scare the parents
Of course, scaring and pranking your friends is fun, but what's more fun than watching your parents freak out, especially when it comes to technology? Now we will warn you, it will take a little setting up out of sight, but you could use this one for years without them ever knowing! Suitable for both apple and android users.
First, you need to visit www.remotemouse.net on your parents' laptop or computer. This could be tricky if it's password protected, but claim issues with your own and feign homework if needs be! Once you're in, you will need to follow the instructions to download the program to your device. After that has been done, you will need to download the app to your iPhone or iPad. Then you're ready to go! You can now control your parent's laptop from your mobile device. Wait until they're in the middle of working and watch them freak out when you start typing for them and taking control. This could go on for years if you manage to keep a straight face and hide your phone!
3. Spooky chat messages
If you're someone with a strong constitution and fear of nothing, why not test your fearlessness with some really spooky stories! Unlike other stories, these are a little different…
Each day there is a new story to delve into. Popping up as chat messages, they feel a little more real than a descriptive novel, which makes them terrifying! These nail-biting conversations will engage you from the first message… can you make it to the end?
You can get the two versions for free on the play store and app store. Let us know if you managed to get through them all, we made the mistake of reading them out towards the end of the day, and a few of us were a little conscious about walking home alone!
4. It's a g-g-g-ghoooost
Whether you believe in them or not, there is something rather eerie about looking for ghosts that go bump through the night. However, instead of hoping one will appear, why not trick your friends into thinking one has! There are many apps to download, but our favourite is the ghost hunting simulators.
Even if you don't believe it, it's fun to run around looking for a ghost with this interactive app. Give it a go through the play store or app store and see if you would make the ghostbuster team! In the style of Pokémon Go, except when you capture these ghosts, you can ask them questions and find out all about them. Its features fully engross you in the hunt to the point you forget the outside world.
5. Communal trick or treating
Whether you're a family that goes out alone or joins forces for a more enjoyable evening, keeping safe and ensuring not to lose everyone in the group is essential to a spooktacular evening (sorry we couldn't help).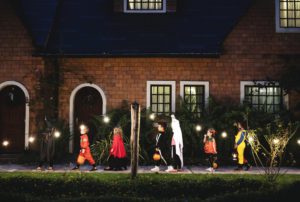 There are various apps available for free, such as finding my friends, family locator and many others. Each comes with its own niche functions. Some include tracking children with their own devices, being able to set boundaries and getting notifications if there is a breach. Most offer real-time tracking on a live map, which is ideal for getting everyone home safe on Halloween!
Keep us ooooop-to-date
Again, so sorry, but if you can't get corny at Halloween, when can you? We would love to hear if you used any of these apps, we have tried them all, and it was a very interesting afternoon at Mazuma HQ.
Of course, don't forget to look after your phone with all of these. We would hate to hear of any device accidents because you were too busy looking for ghosts to see the brick wall. Although if you do need a new device, don't forget you can get money through our sell my phone services and get yourself a brand new phone for less than the price of most large retailers.