The Best Phones for Battery Life: The Complete Guide
You're heading out for the evening, whether it be for drinks with friends, an after-work event, or for a dinner catch-up. You've packed your keys, you've got your wallet or purse, and you go to check your phone to see if everyone else is on their way when suddenly you see your phone has 12% battery.
Unfortunately, almost all of us have found ourselves in situations like this. But this issue can occur all too often for those with a dying phone battery. As experts in phone recycling, where we see this issue often, we'll discuss the best phones to invest in with excellent battery life and suggestions for managing your current situation.
What counts as a good battery life?
But before we dive into which phones boast the best battery life, we should probably lay out the criteria for what counts as a good phone battery life. According to tests run by Tom's Guide, the average phone battery tends to last around ten hours. So essentially, any phone that offers a battery life above that is classed as good.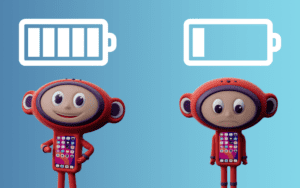 However, how you use a phone will, of course, contribute to the length of time it will last. For example, media takes up a lot of battery life, so if you're travelling long distances and plan on binge-watching your favourite show, you'll most likely expect to pack a power bank. However, if you work in an office that doesn't allow mobile phone use, you should expect it to last a significant amount of time.
The importance of preserving your battery health
Battery health is also something you should consider when taking care of your phone. Like other parts of your device, the older your phone is, the more strain you will put on the battery, which can reduce its effectiveness for charging and holding charge. When trading in your phone, if we find a battery with a health lower than 80%, we will categorise it as faulty, so looking after your phone battery is important if you want to trade it in in the future.
Things you can do to preserve the health of your battery:
Avoid depleting your battery to 0% before recharging.
Use iOS's Optimised Battery Charging feature if available.
Activate Low Power Mode when the battery is low.
Keep your phone's software up-to-date, as updates may include battery-life-enhancing improvements.
How to check your battery health before sending in your phone
For Android devices:
Open the Settings app on your phone.
Select the Battery
You will have information about the battery life, including what apps have consumed the most power.
For iOS devices:
Open the Settings
Scroll down and tap on Battery.
Tap on Battery Health.
You can also use third-party apps like AccuBattery to check your phone's battery health.
Phones that offer a good battery life
With that in mind, let's look at some of the best phone battery life options to consider when upgrading to a new model.
Samsung Galaxy Note 20 Ultra 5G
If you want a phone with unrivalled battery life, look no further than the Samsung Galaxy Note 20 Ultra 5G. The Samsung Galaxy Note 20 Ultra 5G has focused heavily on battery life to allow gamers and social media scrollers to interact for hours on end with the brightness cranked up high for the best possible gaming experience on mobile.
As a result, the phone boasts 4500 mAh, one of the most impressive battery lives, easily surpassing the ten-hour mark. However, while it's still an incredible phone, finding one brand new may be a little impossible as Samsung discontinued the series of Notes with this incredible device in 2020. But this could be a brilliant option if you're looking for a phone with a great battery and budget.
Google Pixel 7 Pro
With its sleek style and minimalist Google branding, the Google Pixel 7 Pro is another phone offering plenty of battery life. Although the Pixel 6 gave false promises with its excellent battery on paper, the upgrades in the Pixel 7 Pro are pretty unbeatable. The phone also supports high-quality graphics for gamers and social media fanatics (there's a clear trend here) and has ensured its battery life can keep up when undertaking these tasks.
Even when setting the display refresh rate on high (which can be quite draining for a phone), it will perform incredibly. So, if you're worried about your phone giving up the ghost midway through a TikTok LIVE or capturing the stunning views from the top of a beautiful mountain in the Lake District, the Google 7 Pro has you covered. If you want to upgrade your Pixel 6 to a 7, why not trade your Google Pixel with us today?
Samsung Galaxy S23 Ultra
The Samsung Galaxy S23 Ultra has to be one of the best phones for battery life, designed to cater to the needs of even the most demanding power users. With its high-capacity battery, you can expect extended periods of unplugged usage, allowing you to seamlessly switch between data-heavy tasks without worrying about running low.
Its advanced AI optimisation features uniquely adjust the device's settings to manage power consumption prudently. The device also supports fast charging to replenish the battery swiftly, and wireless charging adds an extra layer of convenience. So, for the latest and greatest phone with one of the more impressive battery life options, you can't go wrong with an S23 Ultra.
Apple iPhone 15 Pro Max
Is any list of phones complete without a nod to Apple? Of course, with each iPhone release, Apple goes bigger and better to provide its users with the most from their phones before scrambling to find a plug socket. Although they've yet to match the Samsung Galaxy S series with their battery usage, the iPhone 15 Pro Max gives it a good run for its money.
With an impressive 4422 mAh battery capacity and boasting six more hours of video playback than the iPhone 12 Pro, Apple is definitely reaching new heights. So, why not trade-in your iPhone 12 Pro and get the battery upgrade you deserve?
How to get the most out of your battery
So, you have your new upgrade, you've sent your old one to us with our sell my mobile services and are ready to make the most of your phone's battery life. However, even the best phones have to take a rest, but we know you'd like your battery to last even longer.
So we've put together some simple tips to squeeze out extra power:
Reduce Screen Brightness: Lowering your screen brightness is the easiest way to save battery life. You can use auto-brightness settings or manually adjust it based on your environment.
Disable Unnecessary Apps: Close or disable background apps and services you're not using to prevent them from draining your battery.
Use Wi-Fi Instead of Mobile Data: When possible, connect to Wi-Fi networks to reduce the strain on your mobile data and save battery power.
Enable Power-Saving Mode: Activate your phone's power-saving mode to optimise settings and extend battery life, especially when running low.
Keep Your Phone Cool: High temperatures can accelerate battery drain. Avoid exposing your phone to excessive heat, and use cases that don't trap heat.
There are plenty of ways to help save your battery, and there are even myths about charging to make the most of your power. However, even if you can't do them all, just taking one or two of our tips will help your phone go the extra mile.
Upgrade and save
Unfortunately, even following those steps is sometimes not enough to keep your phone alive, and the time comes to move on from your current model and invest in something shiny and new. But before you sling your old phone into a drawer to collect dust or chuck it in the bin with this week's rubbish, why not make a little cash you can use towards your replacement phone?
After all, it's the least your current phone can do for you, given it has died on you!
Trade-in your phone with Mazuma and get the cash to put towards a new phone or to treat yourself, whatever you prefer. We offer the most competitive online prices, and you can even sell us your broken phones. So don't let a bad battery get in your way. Let us help you upgrade to something better!