What to expect from Motorola's new Moto G6 range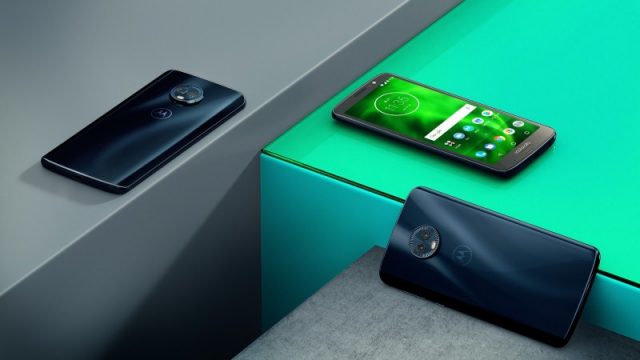 For people looking for top-quality smartphone performance on a modest budget, there have been few more reliable options than the Moto G range from Motorola over the last few years. Since their debut in 2013, the brand has proven to be one of Motorola's biggest success stories, with more than 70 million units sold to date.
Now, the company is looking to step up this success with the launch of its newest device, the Moto G6, which is making its debut in the UK this week. The affordable yet highly capable handset is clearly being positioned as a major step forward for the Moto G series, leading Motorola to set an ambitious sales target of 30 million devices over its lifespan.
To better understand why Motorola is placing so much confidence in its new phone, it's worth taking a look at the impressive specifications and options Moto G6 offers – as well as considering what some of the industry's most respected publications are saying about it.
The details on the Moto G6 range
As with previous Moto G smartphones, the Moto G6 brand encompasses a range of different models, each targeting their own markets and price points. The standard Moto G6 will retail for £219, and will be flanked on either side by the affordable lower-spec Moto G6 Play for £169, and the higher-end Moto G6 Plus for £269. Each can be purchased in Sterling Blue, Indigo Blue, Silver and Fine Gold.
One of the most eye-catching new additions is the 18:9 Max Vision display sported by all three models, which offer a level of visual fidelity that you'd expect from a premium handset. This allows for a taller display that retains a characteristic Motorola feel, while each model also offers appealing camera options – both the Moto G6 and G6 Plus feature dual cameras with 12 Mp and 5 Mp lenses, with the G6 Play providing a 13 Mp single lens. All three also incorporate an 8 Mp front-facing camera.
Operationally, users can expect a brisk performance, thanks to the 1.8GHz Snapdragon 450 and 2.2GHz Snapdragon 630 processors offered by the G6 and G6 Plus, respectively. The G6 Play's Snapdragon 430 processor, meanwhile, clocks in at 1.4GHz. Shared features include frontal speakers, headphone jacks, expandable microSD storage and an Android 8.0 Oreo operating system; when it comes to RAM options, battery capabilities and connectivity, the higher-end models can generally be expected to offer better performance.
What are the experts saying?
The previous devices in the Moto G range have earned widespread acclaim for the level of performance they delivered while remaining affordable, and the reviews for the Moto G6 series suggests that Motorola have successfully built upon that legacy.
In a 4.5 out of 5 review, TechRadar described the Moto G6 as "one of the best budget handsets on the market", singling out its premium design and vibrant display for praise, while Trusted Reviews – which named the Moto G5 as its top budget phone of 2017 – concurred that the Moto G6 is a "true successor" that cements Motorola's leadership in this competitive market.
Further praise came from T3, which stated that the device's glass build, 18:9 screen and full-featured camera system "make it easy to forget that you're using a device that costs under a third of the price of an Android flagship". Tech Advisor, meanwhile, said the Moto G6 is "a fantastic phone in terms of combining design, specs and software".
It seems clear that the experts believe that Motorola has handily succeeded in its goal of taking the popular Moto G series to the next level – meaning those shopping for a high-quality budget smartphone option are likely to be left satisfied when the G6 range hits stores.