New and upgraded Nokia 5.1, Nokia 3.1 and Nokia 2.1 coming soon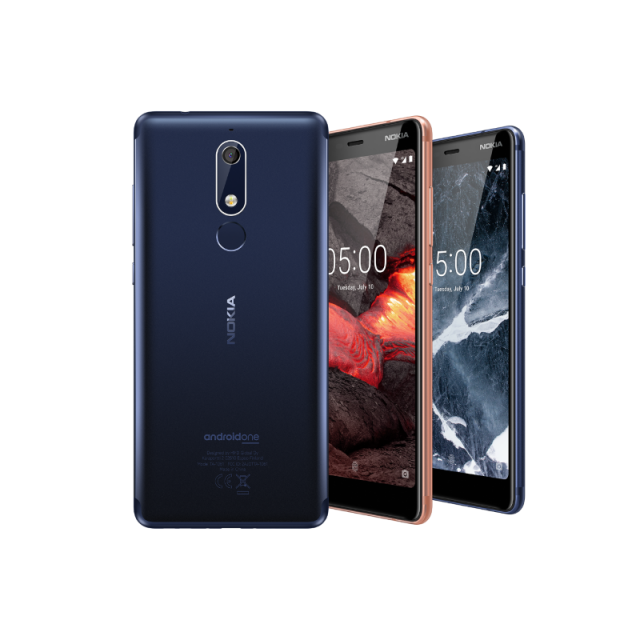 Nokia has been quietly re-establishing itself as an important player in the mobile market over the last few years, with the esteemed brand, under its new owners HMD Global, carving out a niche for itself by delivering highly capable handsets at an affordable price.
The Nokia 5, Nokia 3 and Nokia 2 devices were a perfect example of this design principle, and have proven a real success among budget-conscious consumers who still want a sophisticated smartphone experience. Now, HMD Global is looking to build on this momentum by introducing improved next-generation versions of all three handsets.
The new Nokia 5.1, Nokia 3.1 and Nokia 2.1 will all be released in the coming weeks, with each one offering larger screens and enhanced performance, while maintaining the long-lasting battery life and low price for which this range has become known.
Slick design and performance at a low cost
The Nokia 5.1 is the relative powerhouse of the product line, offering a 5.5-inch 18:9 Full HD+ display and a 2.0 GHz MediaTek Helio P18 octa-core processor that is 40 per cent faster than its predecessor. It also features an upgraded 16MP rear camera with phase detection auto-focus, a wide-angle front camera, and a relocated fingerprint sensor for greater convenience.
Meanwhile, the Nokia 3.1 follows in the footsteps of the best-selling Nokia 3 with a robust 5.2-inch HD+ screen and an octa-core MediaTek 6750 chipset, providing twice the number of processor cores and a 50 per cent performance boost on the previous generation. It also offers a 13MP main camera with auto focus and a full set of sensors usually only found on premium phones, meaning users can make use of NFC features and play popular AR games like Pokémon Go.
Finally, the ultra-affordable Nokia 2.1 features a 5.5-inch HD screen that's almost 20 per cent bigger than the Nokia 2, with an upgraded Qualcomm Snapdragon 425 64-bit chipset, a 5MP front-facing and 8MP rear camera, and dual front-facing stereo speakers. Additionally, thanks to a huge 4,000mAh fast-charging battery, the Nokia 2.1 can run for as long as two days between charges.
Optimised Android experiences
Each of the new Nokia smartphones will offer further enhancements made possible by the optimised Android software experiences each device provides.
The Nokia 5.1 and 3.1 handsets will be equipped with Android One, a tailored operating system designed to provide greater storage and battery life, as well as AI-powered innovations and services like Google Assistant and Google Photos. Both phones will be supported by three years of guaranteed monthly security patches and two years of software updates with free unlimited high-quality photo storage.
Meanwhile, the Nokia 2.1 comes with the Oreo edition of Android Go, designed to help smartphones with 1GB RAM or less to provide more storage reduce data consumption.
Juho Sarvikas, chief product officer at HMD Global, said: "Every single detail on a Nokia smartphone has been designed with consumers in mind, which is why we are delighted to introduce these refined smartphones that deliver a dramatic step up on performance, continue to drive the most premium design elements to price points accessible to everyone, and deliver the class-leading quality that you expect from us."