Will wearable technology change the nature of the smartphone?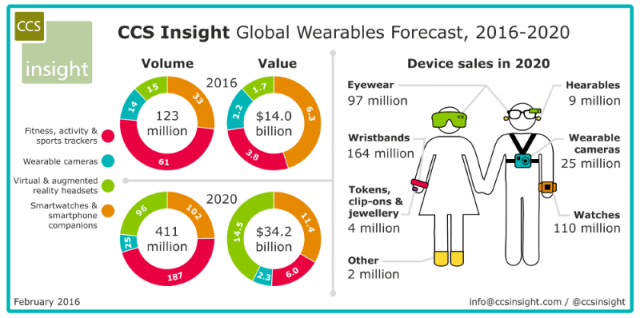 The trend for wearable technology started picking up pace a couple of years ago – and while it may initially have seemed like an unnecessary addition to the convenience offered by smartphones, there is no denying that it is gathering momentum. 
It could be argued that the launch of the Apple Watch cemented a place for wearable technology in the mainstream. Although the device has not been as universally welcomed as the original iPhone was back in 2007, it remained a landmark moment for the industry. 
Watches are just one expression of wearable technology, as the concept offers many more possibilities. This is starting to become apparent, as smartphone manufacturers are no longer simply following Apple's lead and sending their own versions of smart watches to the market. Instead, there is more of a focus on other forms of wearables. 
For instance, at the Mobile World Congress in Barcelona, Sony unveiled a range of new products to complement its X range of smartphones, including the Xperia Ear. This is a next-generation wireless earpiece that acts as a wearable assistant, offering information such as schedules, weather reports and the latest news to keep the user up-to-date without having to look down at their mobile screen. 
There is also speculation that Apple is set to dispense with the traditional 3.5mm earphone jack. Instead of having one of these ports to connect wired earphones to the iPhone, the next version of the computer manufacturing giant's flagship handset could instead support wireless earphones. 
While this remains to be seen, there can be no doubt that wearable technology is on the rise. The latest global wearables forecast from CCS Insight predicts that 411 million smart wearables will be sold by 2020, with revenue poised to reach $14 billion (£9.91 billion) by the end of this year alone. 
Wrist-worn devices such as the Apple Watch were highlighted as the trailblazers of the wearables market. Their usefulness in sports and physical activities could be seen as a driving factor behind this trend, as trackers for these uses are set to account for almost half of all shipments over the next 12 months. This was specified as being over 60 million units – and smartwatch sales are expected to exceed 30 million units.
Ben Wood, chief of research at CCS Insight, said: "Given the rising consumer apathy toward smartphones, it is little wonder so many companies are chasing the rapidly growing opportunity presented by wearables. We're particularly excited about the potential for augmented and virtual reality devices and we predict 2016 will be a pivotal year."
Apple remains the biggest name in the smartwatch market, with a 41 per cent market share of the 22 million smartwatches sold in 2015. In an infographic published alongside its report, CCS Insight acknowledged that wristbands and watches clearly dominate the wearable market and are likely to continue to do so for some time. Some 164 million wristbands and 110 million watches are forecast to be sold in 2020. 
This is followed by 97 million items of smart eyewear such as Google Glass, 25 million wearable cameras, nine million headbands, four million tokens, clip-ons and jewelery and two million other items. 
But for now the extent to which this will change the nature of the smartphone market can only be guessed at.