Three new high-end smartphones unveiled by Nokia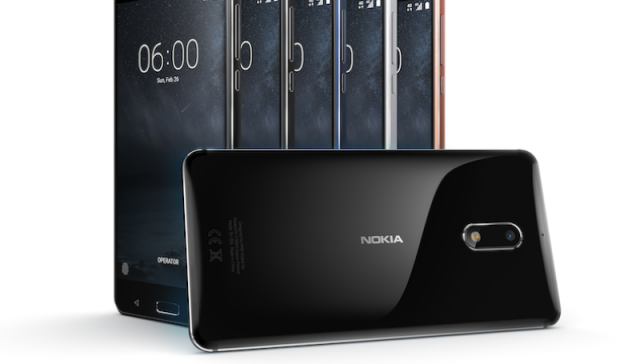 Finnish mobile phone manufacturer Nokia has unveiled a new generation of devices comprised of three new smartphones – the new Nokia 6, the Nokia 5 and the Nokia 3.
The 6 is offered as a high-performance, premium option that rivals the likes of the iPhone and the Samsung Galaxy S series, with immersive entertainment offerings. 
Design and elegance is the main focus of the Nokia 5, which fits perfectly into a hand, while the Nokia 3 is delivered at an affordable price point. 
All of these devices are powered by Google's Android Nougat mobile operating system and offer a secure and up to date experience, complemented by Google Assistant. 
Nokia 6 has a bright and colourful 5.5-inch full HD screen, with a unibody crafted from a single block of 6,000 series aluminium. A smart audio amplifier with dual speakers allows users to experience a deeper bass and clarity, with Dolby Atmos sound to deliver a powerful entertainment experience. 
It will be available in four colours, which are titled Matte Black, Silver, Tempered Blue and Copper – and it will retail at an average global retail price of €229 (£195).
The four colour variants are complemented by the Nokia 6 Arte Black Limited Edition, which is a black high-gloss package that retails at the slightly higher average global retail price of €299. It also boasts 64GB storage and 4GB RAM. 
Like its premium sibling, the Nokia 5 has been engineered from aluminium to create a pillowed unibody that flows into a sculpted Corning Gorilla Glass laminated 5.2-inch HD display. 
It runs on the Qualcomm Snapdragon 430 mobile platform and the Qualcomm Adreno 505 graphics processor, that make features of a high-end flagship smartphone available at a mid-range price point. It retails at an average global retail price of €189 and is available in the same four colours as the Nokia 6. 
The Nokia 3 shares many of the characteristics of the 6 and 5, with an aluminium frame forged out of a single piece of aluminium, a sculpted Corning Gorilla Glass laminated five-inch display and seamlessly integrated 8MP wide aperture cameras on both the front and back. It will retail at an average global retail price of €139.
Nokia asserted that this approach of making as many of the same features available at all price points as possible is a demonstration of its belief that every consumer should have access to premium quality. 
The latest Google services and monthly security updates will be included with all three devices to ensure the smartphones remain safe, secure and up-to-date. 
A portfolio of Nokia Accessories was also announced – and it follows the same design philosophy. The full accessories portfolio includes a range of headsets, portable and Bluetooth speakers, in-car chargers, cases and screen protectors.
Chief executive of HMD Global Arto Nummela said: "Nokia has been one of the most iconic and recognisable phone brands globally for decades. In the short time since HMD was launched into the market, the positive reception we've had has been overwhelming – it seems everyone shares our excitement for this next chapter. 
Today's consumers are more discerning and demanding than ever before and for us they will always come first. Our efforts in bringing together world class manufacturers, operating systems and technology partners sees us proudly unveiling our first global portfolio of smartphones with a Nokia soul, delivering the very best experience to everyone."