Super Mario heading to the iPhone in December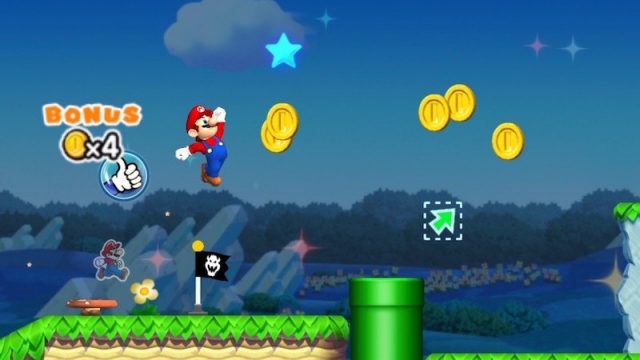 Super Mario – arguably the most iconic video game character of all time – is heading to iOS devices later this year. 
A full-sized Super Mario Bros action platformer titled Super Mario Run has been developed specifically for mobile and will be available first on the App Store this December. 
Mario creator Shigeru Miyamoto revealed all in an announcement at the same keynote event in San Francisco where the iPhone 7 was unveiled. 
As the event was broadcast worldwide, millions of Mario fans were treated to seeing their favourite Italian plumber being through his paces in a multi-level demonstration. 
It was instantly familiar to fans of the series, as Mario ran through green fields, jumped over pipes and collected coins. In the game, Mario constantly runs forward on his own – and players can make him jump over obstacles with a single tap, all the time endeavouring to avoid pesky enemies and reach the final flag pole to complete levels. 
One game mode sees the player collect coins and heads for the goal like this and another poses challenges from other gamers, competing against one another's most acrobatic moves on the same course. These play results can be used in a third mode that offers the chance to create a unique Mushroom Kingdom.
A portion of the game will be available for free, with the rest of the game unlocked after the user has paid a set purchase price. More details on this are to be disclosed at a later date. 
Mr Miyamoto himself developed the game, which represents the next phase of Nintendo's expansion to mobile platforms, following the release of Miitomo earlier this year. Recently, Pokemon Go was a big success for another franchise that has previously appeared on Nintendo consoles, but it was not created by the Japanese gaming company. 
Nintendo plans to deliver previously announced mobile device titles in the Animal Crossing and Fire Emblem series after the launch of Super Mario Run and before next March. A free Mario-themed sticker pack will be launched on the App Store for iMessage this month. 
Apple chief executive officer Tim Cook said Mario adds to the App Store's existing enhancement of the way people communicate, work and enjoy themselves. 
"For gamers of all ages, the story just hasn't been complete without Mario, so we are thrilled that Nintendo is bringing him to iOS for the first time this December," he commented. 
Mr Miyamoto, who first devised the Mario character over 35 years ago, said: "We have created Super Mario Run to be perfect for playing on your iPhone.
"Super Mario has evolved whenever he has encountered a new platform and for the first time ever, players will be able to enjoy a full-fledged Super Mario game with just one hand, giving them the freedom to play while riding the subway or my favourite, eating a hamburger."