Samsung unveils Galaxy S7 and Galaxy S7 edge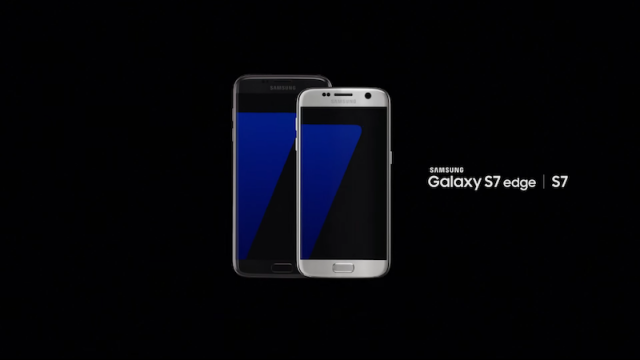 Samsung has unveiled the next generation of its smartphones in the form of the Galaxy S7 and Galaxy S7 edge. 
These devices combine the sleek design that has come to characterise the range with powerful performance, more advanced camera features, water resistance and external memory. 
The camera is one of the most notable upgrades on these devices, as it is the first Dual Pixel camera on a smartphone. This means it is capable of delivering brighter and sharper images – even in low light. 
Dual Pixel technology gives images captured by the camera a brighter lens with wider aperture, as well as larger pixel density, meaning the camera has a faster shutter speed and a more accurate autofocus. 
In terms of the software, this is complemented with the new camera mode Motion Panorama, which adds movement to traditional panoramic photos to offer an immersive visual experience. 
Samsung has refined the design of the Galaxy series with the 5.1-inch S7 and 5.5-inch S7 edge, constructing both devices with 3D glass and metal. This offers durability and ergonomic curves for a comfortable grip – and increased water and dust resistance represent another core feature of the S7 and S7 edge. 
Always-On Display means it is not even necessary to touch the screen to avoid missing a call or important notification. The advanced edge experience available on the previous Galaxy has been enhanced on the S7 edge, adding the convenience and increased efficiency of creating easy shortcuts to functions such as email, selfie mode, panorama mode or third-party applications. A degree of personalisation means that the user can tailor the function to suit their individual needs. 
Performance enhancements mean the S7 and S7 edge are optimised for gaming, with the new processor and larger battery capacity meaning the smartphone gamer is free to play for extended spells. An internal cooling system prevents the device from overheating and a new add-on titled Game Launcher makes it possible to manage battery consumption and minimise notifications for an uninterrupted gaming experience. 
President of mobile communication business for Samsung DJ Koh said: "We believe in a world that is brighter, sharper, more convenient and more fun. We strive to deliver on that vision with the Galaxy S7 and Galaxy S7 edge by marrying elegant design with functionality and providing a seamless mobile experience.
"We empower consumers with technology to help them get more out of life and will continue to push the frontier of what's possible."