Panoramic photos come to Facebook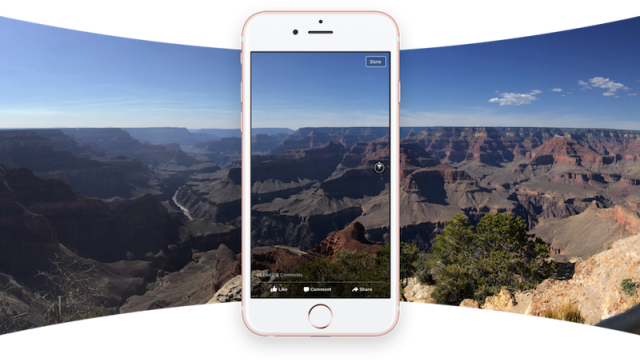 Facebook has announced the introduction of 360 Photos – a new feature that makes it possible for users to add panoramic images to their feeds. 
Images were first introduced to Facebook more than a decade ago and quickly became one of the main ways people communicate with their friends, family members and loved ones through the social network. 
Indeed, rival offerings such as Instagram have emerged to place even greater emphasis on images. 
On Facebook itself, hundreds of millions of new photos are uploaded and shared every single day. These range from fun snapshots of pets' antics to major life milestones such as weddings – and all points in between. 
The new 360 Photos feature is intended to improve the experience of image sharing and add a new and more immersive way for people to share their world and experiences with others. 
All the user has to do is take a panoramic shot with their smartphone using either a 360 photo app or a dedicated 360 camera and post it to Facebook as a normal photo. 
From there, instead of being compressed to a smaller file size, it will be converted to an immersive 360 image that can be explored by others. 
This operates on a very similar basis to how people are already able to share 360 videos on Facebook. 
In a blog post, the company emphasised the potential for this feature to go beyond sharing with friends. 
"Along with 360 photos from your friends and family, you can discover stunning new 360 photos on Facebook from public figures, publishers, and other organisations. 360 photos give you the ability to take the stage in front of 100,000 fans with Paul McCartney, get behind-the-scenes access to the Supreme Court via The New York Times, visit the International Space Station with NASA, and more."
The opportunities for creativity were also highlighted – and 360 Photos can be viewed in an even more immersive fashion with virtual reality headsets.