OnePlus extends its flagship smartphone into Europe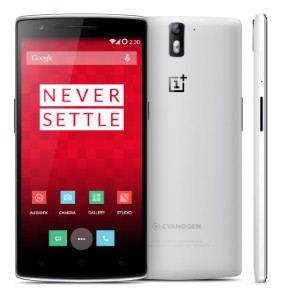 OnePlus, the new kid in the smartphone market – which portrays itself as the "flagship killer – has announced that its OnePlus One is now available across Europe.
The Chinese start-up company, which was founded in December 2013, said that both versions of the device – the 16GB Silk White and 64GB Sandstone Black –can be picked up by customers in the European Union.
This is a smartphone that comes with a lot of buzz, principally for the fact that for a premium-level device, this is very affordable. As such, OnePlus One is seen as a possible game-changer.
"We are growing so rapidly because we want to bring the OnePlus One, and all OnePlus products, to as many people as possible," the company stated on their blog.
"It's why we have been so global from the start. Originally launching in seventeen countries across North America, Western Europe and East Asia, we made an effort to reach as many users as possible.
"Since then, we have expanded to both India and Indonesia. Now, OnePlus is very excited to include the whole of the EU."
The smartphone comes with a Qualcomm Snapdragon 801 processor that packs 2.5GHz Quad-Core CPUs. It is powered by a 4G LTE multimode modem, allowing for fast and easy connection to the internet.
One of the highlights of this device is its camera, which comes with an impressive 13 megapixels and f/2.0 aperture. For added benefit, it also delivers excellent image quality in low light conditions.
The touch interface is also extremely engaging, with certain gestures leading to particular outcomes. For example, if you tap twice on your screen, the OnePlus One will "come to life", while drawing a "simple image on the sleeping screen" will launch your preferred app.
There is a lot going for this device and it'll be interesting to see how much of an impact it will have in Europe, where brand power – especially that of Samsung and Apple – dominate.