New Edge display unveiled by Samsung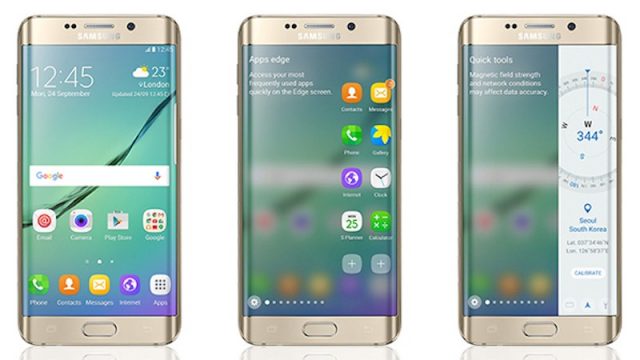 The new Edge display Samsung launched as part of its Galaxy S6 Edge and Edge+ smartphones has proven to be a big hit. 
However, the curved edges of the screen did not offer too much in the way of added functionality compared to previous iterations of the South Korean electronics giant's previous Galaxy devices. 
Indeed, when dual edge screen was announced, it was seen as a distinct illustration of Samsung's design ethos, which has long been predicated on natural-feeling curves. 
With this in mind, it may be the case that a big part of the appeal of the feature came down to how it looked. However, this could all be set to change, as Samsung is set to add a raft of new features to the Edge display alongside the Android 6.0 Marshmallow update. 
Much of the limitations of the dual edge screen comes down to the fact that it was only 260 pixels wide, which means that not very much content could be displayed. It has largely been restricted to adding shortcuts so users can quickly access contact details for the most important people in their lives, or access their favourite apps more conveniently. 
The new additions appear to be geared towards greater convenience and speed of use, in the hope the Galaxy devices can offer more for those who want to be able to get the small things done much faster. 
As such, the enhanced edge screen, which will come as part of the most recent mobile operating system upgrade to Android 6.0 Marshmallow, will enhance the user interface by introducing an option to expand it to 550 pixels. This is more than twice the pixel density of the initial launch version. Simple swipes and taps along the edge of the screen will now offer a greater degree of user control, as more content can now be displayed. 
This could potentially eliminate the need for the user's home screen to sprawl over several pages and get rid of a lot of excess clutter. Up to nine panels can now be customised by users, including the People edge and Apps edge panels. The former allows for the easy management of contact details, with a small photo icon displaying the top five contacts on the device. The latter has been updated to allow for ten apps, rather than the previous five. Entire folders can also be organised in this fashion, not just single apps. 
In a statement, Samsung indicated that it has worked hard to bring new features to the dual edge screen with the support of other companies. "Through Samsung's ever-growing partnerships, as well as the release of its software development kit for the Galaxy S6 Edge screen, the company has established a diverse collection of content especially for the wider edge panel. With the strengthening of this third party ecosystem, users can experience a differentiated and richer edge experience."
Yahoo! Finance, Yahoo! Sports and Yahoo! News already come pre-equipped with the OS upgrade. Samsung pledged that it will keep bringing new features to the Galaxy range. "Samsung's feature-rich edge screen display continues to push the envelope with its recent updates. But this is only a sign of what's to come, as Samsung will continue to refine and enhance the unique edge not only on its existing devices, but also on ones to come."