Mumford & Sons: Leave smartphones alone during gigs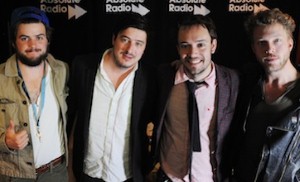 Mumford & Sons have come a long way as a band. Formed in 2007, the London-based folk rockers have not only cracked the UK market, but the US also. Three albums later – Sigh No More, Babel and Wilder Mind – and you can argue they are up there with the best.
They now have clout, meaning people listen to what they have to say. One of their particular highlights has been their attitude to smartphones – in relation to gigs that is, not just in general.
Simply put, they appreciate the value of the device and its centrality to everything we do, but they believe that it blights the music experience, for both fans and musicians. As such, they put out a request at the start of show for smartphone usage to be restricted.
"It makes for such a unique atmosphere [not to have a smartphone on the go]," explained bassist Ted Dwane in a recent interview with XFM.
"My policy now when I'm at a gig. Right at the beginning, get my phone out, take a picture and then that's it. It'll be in the phone, that'll be my little reminder or memento from the night. I'm not going to film the whole gig."
His bandmate, the banjoist Winston Marshall, added that a lack of smartphones makes for a much more engaging atmosphere. As a band, they can see audience members, instead of the glow of camera lights and flashes when people take pictures.
These are important points and highlight the fact that these days, many people are so caught up with capturing and then sharing a moment, they actually forget to experience it. It's as if on looking back, they will think, nice snap, but have no real memory of it.
In some cases, they might as well not be there because if they are focused on their smartphone, they will ultimately not be completely immersed in the music. And that it certainly a shame.