Xperia XZ Premium world's first super slow motion smartphone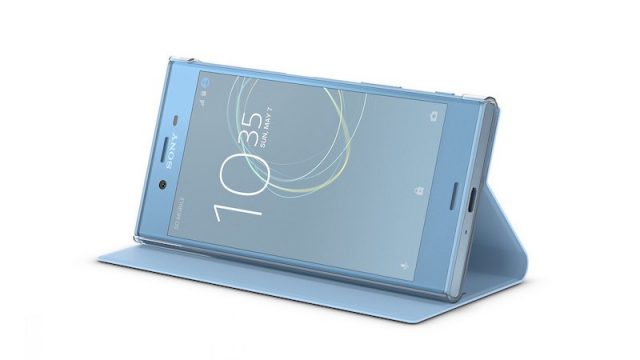 Sony has announced the launch of the Xperia XZ Premium – a new top-of-the-range smartphone that is the first in the world to offer super slow motion video capture.
This groundbreaking technology was unveiled at the Mobile World Congress in Barcelona yesterday (February 27th) – and the camera is so advanced that it is able to capture motion that even the human eye is not capable of seeing.
Other features include a 4K HDR display, super-fast download speeds, a highly distinctive loop design and more intelligent features.
In terms of product design, the exterior of the Xperia XZ Premium has a glass loop surface that reveals a unique mirrored effect on the back when turned over. The design was created with the goal of making everything appear seamless and unified, with flowing lines and an intuitive finger-print sensor power button.
This is complemented by the software, which is built around a new live wallpaper that moves the elegant loops as the user swipes, while the colours on screen are matched to the colours of the exterior. Colours available include Luminous Chrome and Deepsea Black.
Drawing on decades of Sony's innovation in both consumer-grade camera technology and smartphones, the Xperia XZ Premium incorporates a raft of imaging features embedded on Sony 'a' and Cyber-shot cameras. This has facilitated the creation of the new Motion Eye system, which is intended to capture shots beyond the capabilities of other smartphones.
It is the first smartphone to accommodate a memory stacked ExmorRS sensor with technologies usually only found on premium compact cameras. This makes it possible to provide five times faster image scanning and data transfer.
As a result of this, users will be able to create videos from their everyday moments by recording in 960 frames per second, providing super slow motion video playback that is four times slower than other smartphones. It also means more detail can be captured than has ever been possible from a mobile device.
Predictive capture automatically starts buffering images when it detects motion – even before the button is pressed. A moment missed by the naked eye can therefore be seen for the first time in the phone's image library, drawn from a selection of up to four shots taken a second before the user clicked.
The new 19MP high-resolution sensor has pixels that are 19 per cent larger than normal, so more light can be captured, which provides a very high level of detail and sharp images even in low-light and backlit conditions.
Other improvements made inside Motion Eye include upgrades to the Bionz mobile processing engine that make it able to detect moving objects more precisely, which is what powers the predictive capture function. Clarity, detail and texture are also improved by this to improve image quality via the redesigned G lens with high optical clarity.
Those who prefer consuming video content to creating their own are also well catered for, as a selection of 4K HDR content is available from Amazon Prime Video on Xperia XZ Premium. This is the first time content of this definition has been made available to mobile devices. Select Amazon Originals series can be streamed or downloaded to watch on the go, with vivid colours and superior clarity.
People who take their handset with them on adventures in the great outdoors will not have to worry too much about protecting their smartphone from unfavourable conditions, as the smartphone is water resistant and protected against dust. This is possible as it is reinforced with Corning Gorilla Glass 5 on the front and back, offerings a very high level of durability. Not only does this mean getting caught in the rain is not a problem, but it is also possible to wash off any excess dirt under a tap – provided all ports and attached covers are firmly closed.
The Xperia XZ Premium will be available from late spring 2017, with a range of supporting accessories also launched alongside it, including the Quick Charger Bluetooth Headset with Speaker.