LG files smartphone/smartwatch hybrid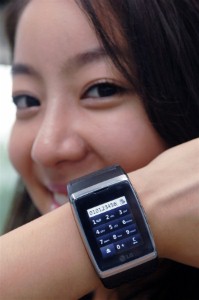 The age of the smartwatch is truly upon us, with the whole world waiting in anticipation for Apple to drop its already iconic gizmo. This is going to be a gamechanger to say the least.
Sure there are other equally brilliant alternatives out there, such as Samsung's Gear S, Sony's SmartBand Talk and Asus' Zenwatch, but it is fair to say, from what we've seen in terms of press, Apple's offering is quite the thing.
However, amidst this hullabaloo, LG has filed a patent for what the industry is describing as a hybrid smartphone/smartwatch.
Yes it has its own smartwatch – the G Watch – but this is an entirely different concept. This may well be the future of smartphones.
Design Patent D726,14, which has been approved by the US Patent and Trademark Office, is a fascinating object.
In short, the device can be used as a standalone smartphone – a conventional rectangular shape – and also wrap around your wrist, doubling up as wearable tech.
This is courtesy of a flexible design, although it is not clear from the patent just how the South Korean tech giant is going to make this happen.
Is it wishful thinking? Probably not – we're certainly getting to a position where flexible technology is maturing to a position where it can be manufactured for mass production.
In this regard, LG is one of the pioneering tech giants making this happen, so the fact that it has put a patent application through is very telling.
There are, however, numerous challenges that leave many people perplexed. For example, every component in the device has to be flexible.
This poses huge conundrums, such as bendable electronics and batteries and from what can viewed of the patent images, the device is astonishingly thin.
Would it, for example, be strong enough to not crack or splinter if in the pocket? How is this even possible?
Also, what will the size of the design be? After all, if the trend for larger devices continues, it is difficult to imagine these being functional, let alone trendy.
Whatever the reality behind this, it is certainly exciting to see ideas for such a device being mooted – and seriously so.
Today then, it's all about smartphones and smartwatches existing independently but working in unison through synchronisation.
The smartphone is far too powerful and useful for it to be usurped by a smartwatch, which is, of course, great to use but too small to be engaged with on a regular basis.