Boris Bikes get a new app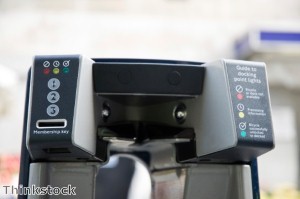 For a long while they were blue, but as of late, they've been turning very red. Yes indeed, Boris Bikes are getting a noticeable makeover.
Beyond the change in aesthetic, which is to do with the fact that sponsorship is changing from Barclays to Santander, the popular bike scheme is to also benefit from a "revolutionary new app".
The app now makes it much more easier to hop onto one of the bikes in London and is available now for free (on both iOS and Android devices).
It allows users to find out where the nearest docking stations are, what bike availability is like and can, best of all, allow you to hire a cycle remotely.
Yes indeed, through the app, users can receive a "bike release" code that lets them select a bicycle, all without having to use a docking station terminal.
Mayor of London Boris Johnson, who has also recently returned to the House of Commons as the new MP for Uxbridge and Ruislip, said that the new app will make locating and hiring a bike "in our great capital city even more of a doddle".
He added: "The app is packed full of handy new features and is part and parcel of our plans to take the cycle hire scheme to the next level and encourage more people onto two wheel.
His colleague, Leon Daniels, managing director of surface transport, at Transport for London, commented that everyone is endeavouring to make cycling a key feature of London life.
"The new official Santander Cycles App will make hiring a bike much easier for both members and casual users by being able to find the nearest docking station and check how many bikes are available, and get an access code so you can just hop on and go without spending time at the terminal," he concluded.