Apple celebrates sale of billionth iPhone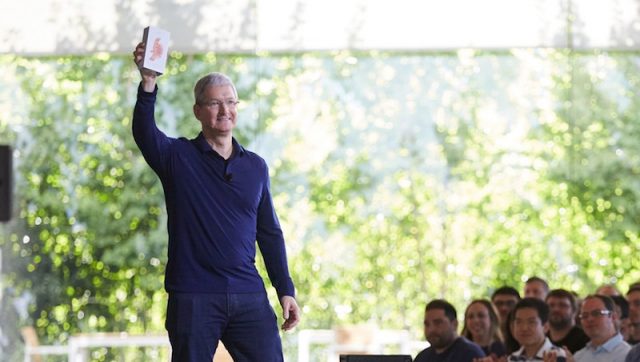 Apple has announced that it has sold one billion iPhones since the introduction of the very first version of the device back in 2007. 
Chief executive officer of the California-based computer giant announced the landmark figures at an employee meeting in Cupertino. 
This comes in spite of other reports indicating declining sales and mild concerns about the future of the iconic smartphone as competitors look to outpace their major rival. 
According to market research and analysis firm Gartner, it took 27 years for one billion PCs to be sold and 131 years until there were one billion cars on the road. 
Mr Cook said: "iPhone has become one of the most important, world-changing and successful products in history. It's become more than a constant companion. iPhone is truly an essential part of our daily life and enables much of what we do throughout the day." 
"Last week we passed another major milestone when we sold the billionth iPhone. We never set out to make the most, but we've always set out to make the best products that make a difference. Thank you to everyone at Apple for helping change the world every day."
The impact of the iPhone on the world today cannot be ignored. When the first iPhone was unveiled by Steve Jobs, it was unlike any other mobile phone seen before that point. 
Its fluid and intuitive interface made smartphones accessible and consumer-friendly, whereas prior to that it was largely seen as a business tool. 
However, it was not without its flaws. Many other smartphones were already offering 3G mobile broadband, while the iPhone was only able to hook up to much slower 2G connections. 
Many of these problems were resolved with the launch of the second version – the iPhone 3G. This added 3G connectivity, GPS and the curved plastic body that many still associate with the look of the range. 
This was launched simultaneously with the App Store, which transformed the field once again. 
While some figures indicate a slight drop in sales for the iPhone, figures from Consumer Intelligence Research Partners suggest this may be because of a wider trend that is seeing consumers wait longer before upgrading to a new iPhone.
It was noted that this is particularly the case in the US, where Apple is increasingly selling new iPhones to existing iPhone owners. 
This means that the current install base has become the most important customer base for Apple. As a result, the forthcoming iPhone 7 could help bring Apple back from its slump.
The company is expected to unveil the iPhone 7 in September – the traditional launch month for new versions of the perennially popular handset. 
It will run on the upcoming iOS 10 and may drop the industry standard 3.5mm headphone jack, according to some reports.