Mazuma Mobile at the What Mobile Awards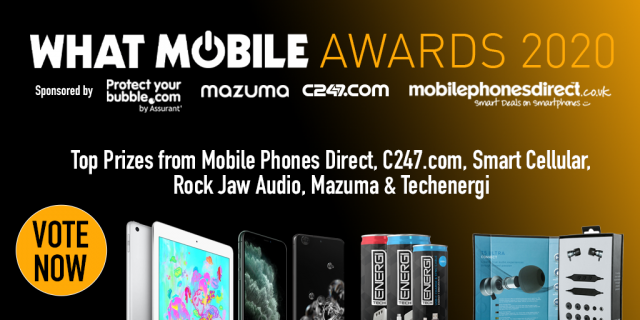 It's that time of year, when the What Mobile Awards ask you for your thoughts on the best in mobile technology for your chance to win a number of exciting prizes. We'd love it if you voted for Mazuma Mobile as best phone recycler while you're at it!
This year's What Mobile Awards, is looking for public opinion on a number of categories. You can cast your vote for the chance to win one iPhone 11, iPad 5, Samsung S20, T5 Ultra Connect, IK Multimedia iKlip Grip Pro amongst other prizes. Submit your votes across the different What Mobile award categories and you'll be entered into a prize draw.
It's easy to vote, just follow the link below and answer 20 questions, and only takes a couple of minutes to complete!
So what are the categories and how do you vote?
The What Mobile Awards Categories
The What Mobile Awards, sponsored by Mazuma Mobile, has a full twenty categories for you to submit your vote in. In addition to awards for physical technology, like the best smartphone and best smartwatch, there are categories for best network, best online retailer and best recycling service. We've broken down each category below, and if you want to see the full shortlist, check out the What Mobile Awards site.
Best smartphone
The category that takes the flagship smartphone offering from each phone manufacturer. You'll be voting for the best, whether it's the new iPhone, Google Pixel, Sony Xperia, Samsung Galaxy or more. There's a full 11 nominees for this category.
Best value smartphone (under £300)
The category that acknowledges the smartphones that don't break the bank. Looking to highlight the phones that offer the best bang for their buck. There are a number of excellent budget smartphones on the market, proving that you don't need to spend a fortune for an excellent phone. This category has 11 nominees.
Best rugged smartphone
Tired of your phone breaking? This shortlist of 6 smartphones is looking to find the very best rugged smartphone. These are smartphones that offer the best waterproofing, shockproofing and general all-round hardiness.
Best fitness wearable
Wearable tech has been growing in popularity. The distinction between fitness wearables and smartwatches is important and this category looks to find the best wearable fitness tracking device on the market. Choose from 4 nominees including entries from Fitbit, Samsung and Garmin.
Best smartwatch
With numerous smartwatches on the market now, the What Mobile Awards want to help find the best. Which offers the best user experience without compromising on style and comfort? The shortlist of 5 includes smartwatches from some of the biggest tech brands around.
Best home hub
The category that puts smart home technology front and centre. The best home hubs seamlessly connect smart technology around the home, lime security, TV and heating, with your phone or smartwatch. But which home hub is the best? Is it the entry from Amazon? What about Google, Apple or Samsung? There's a number to choose from in 2020.
Best Mobile Manufacturer
The What Mobile Awards want to know who you, the consumer, see as the best mobile manufacturer in 2020. Is it one of the traditional tech giants like Apple or Samsung? What about someone like OnePlus, Honor or Realme? This category is your chance to champion your favourite manufacturer.
Best accessory Manufacturer
Many smartphones would be nothing without the accessories that support them. Whether it's quality speakers, headphones or robust cases, this category is looking to highlight the best accessory manufacturers. There are 9 different manufacturers on the shortlist, covering all sorts of different accessories.
Best network
This category wants to find out which UK phone network offers the best service in 2020. Whether it's the network with the widest coverage, most affordable deals or the best customer service. You can vote for any of the big four network providers; EE, O2, Three or Vodafone.
Best MVNO (sim only provider)
It's not just the big networks that What Mobile Awards wants to celebrate. There's wide popularity of sim only deals across a number of excellent mobile virtual network operators (MVNO). This category is looking to find the best from its 10 nominees.
Best online retailer
The online shopping experience, whether it's for a smartphone, contract, home hub or accessory, can truly affect your satisfaction. This category is looking for your thoughts on the best online retailer from a choice of 10 different websites.
Best high street retailer
While high street shops were unfortunately closed for part of the year, that doesn't stop the excellent work being done by these retailers across the country. The What Mobile Awards wants to celebrate the very best high street retailers for smartphones and related tech.
Best accessory retailer
A number of outlets focus purely on accessories, or make accessories an integral part of their wider offering. The 4 retailers that make up this shortlist offer some of the best smartphone accessories on the market and we want to here from you which you think is the best.
Best recycling service
We may be a little bias, but we believe that phone recycling is an essential service. Offering the chance to recycle your old phone in an environmentally friendly way, for cash, is what we do best. We're proud to say that Mazuma Mobile has been shortlisted for best recycling service, and we're up against a number of other companies, so we'd really appreciate your vote!
Best insurance provider
Insuring your tech is important, whether it's to protect it from breaking or theft. The best insurance providers offer affordability combined with excellent customer service. The shortlist of 7 insurers will let you weigh in on which you think offers the best experience and value for money.
Best customer support
This category looks to highlight the people behind the companies. Celebrating good customer service is important and the 9 nominations on this list all deserve to be applauded in their own right. Which company has gone that extra mile though, or provided you with an excellent experience?
Best service and repair
Sadly, smartphones and other smart technologies have a habit of breaking. Whether it's through a preventable accident or something completely unexpected. Having to get your phone fixed shouldn't have to be a chore, so we want to find out which of these 7 nominated services are the best, from Apple Care through to iSmash.
The What Mobile Awards: Audio Categories
The What Mobile Awards has a selection of categories that focus on the best audio options available for smartphones and other smart devices.
Best bluetooth speaker
The category that looks to find the best bluetooth speakers to pair with your device. Whether it's something portable or simply a speaker set up for home. There are 5 nominations from some of the best audio manufacturers around, including Sonos, Sony and Bang & Olufsen.
Best earbuds
Whether you prefer earbuds or headphones is up to you, but each category has a number of excellent choices. If in-ear headphones are your jam, then this is the category for you. With 5 nominations you'll find the best in sound quality and comfort.
Best headphones
Over-ear or on-ear headphones offer some of the best sound quality available. This is a category for audiophiles and will be hotly contested. With entries from Sony, Sennheiser, Skullycandy and a number of other manufacturers to choose from on the shortlist.
Cast your vote at the What Mobile Awards and win!
So there you have it! As headline sponsors of the What Mobile Awards, Mazuma Mobile want to encourage you to vote for your favourites from the categories we've listed above. Remember, casting your vote enters you into a draw for some excellent prizes, including an iPhone 11, iPad 5, Samsung S20, T5 Ultra Connect, IK Multimedia iKlip Grip Pro and more!
Vote now in the What Mobile Awards