Are smartphones helping consumers cut through Christmas crowds?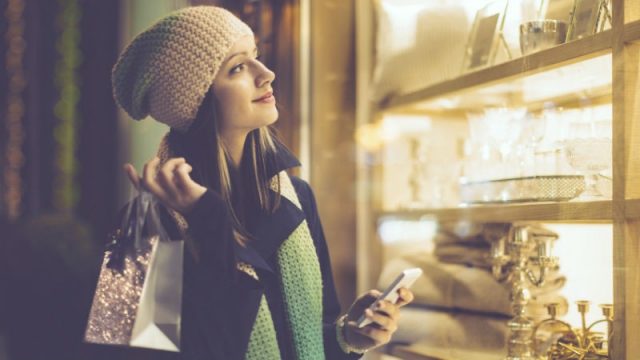 Gone are the days when consumers needed to brave the cold weather and queue for hours to pick up the perfect Christmas presents. Online shopping has saved many of us from high street hell, but thanks to smartphone technology, fitting the Christmas shop into your day is getting easier.
Or is it? According to the BBC, shopping on smartphones is still lagging behind desktops and tablets, with more than 90 per cent of people ditching their online shopping baskets before making a purchase on a smartphone. This figure drops to approximately 68 per cent when shopping on a desktop or tablet.
However, new technologies might level the playing field in the future, with systems like Apple Pay and Android Pay making in-app purchases more seamless. While this is still very much an emerging market in the UK (Android Pay is currently only available in the US), products like this should make shopping on a smartphone less fiddly.
This is because they remove the need for typing in your payment details, meaning you can buy something with just a few taps of your screen. Plus, they potentially offer more security, since they don't share your card details with the merchant.
There are a number of other technologies that might give smartphones the edge in the future too. For example, the Zen Shopping app (currently only available in the US) lets you checkout with a single tab at thousands of stores, including Amazon, which again makes shopping on your mobile a much more seamless experience.
However, when technologies like this will be readily available in the UK remains to be seen.
Right now, it seems that even if smartphones aren't the first choice when it comes to the Christmas shop, they're definitely lending a helping hand.
In fact, recent research suggests that there's a trend for using smartphones to check out products while in a high street store. Published by the Interactive Advertising Bureau, the study showed that half of all shoppers regularly use their smartphones to research products and prices while they're in a shop.
It also showed that these people typically went to make a purchase in a high street store rather than online – though their research often leads them to different stores to make that final purchase.
According to the research, people aged 18 to 34 are most likely to shop in this way, with some 44 per cent of those surveyed claiming to have done so.